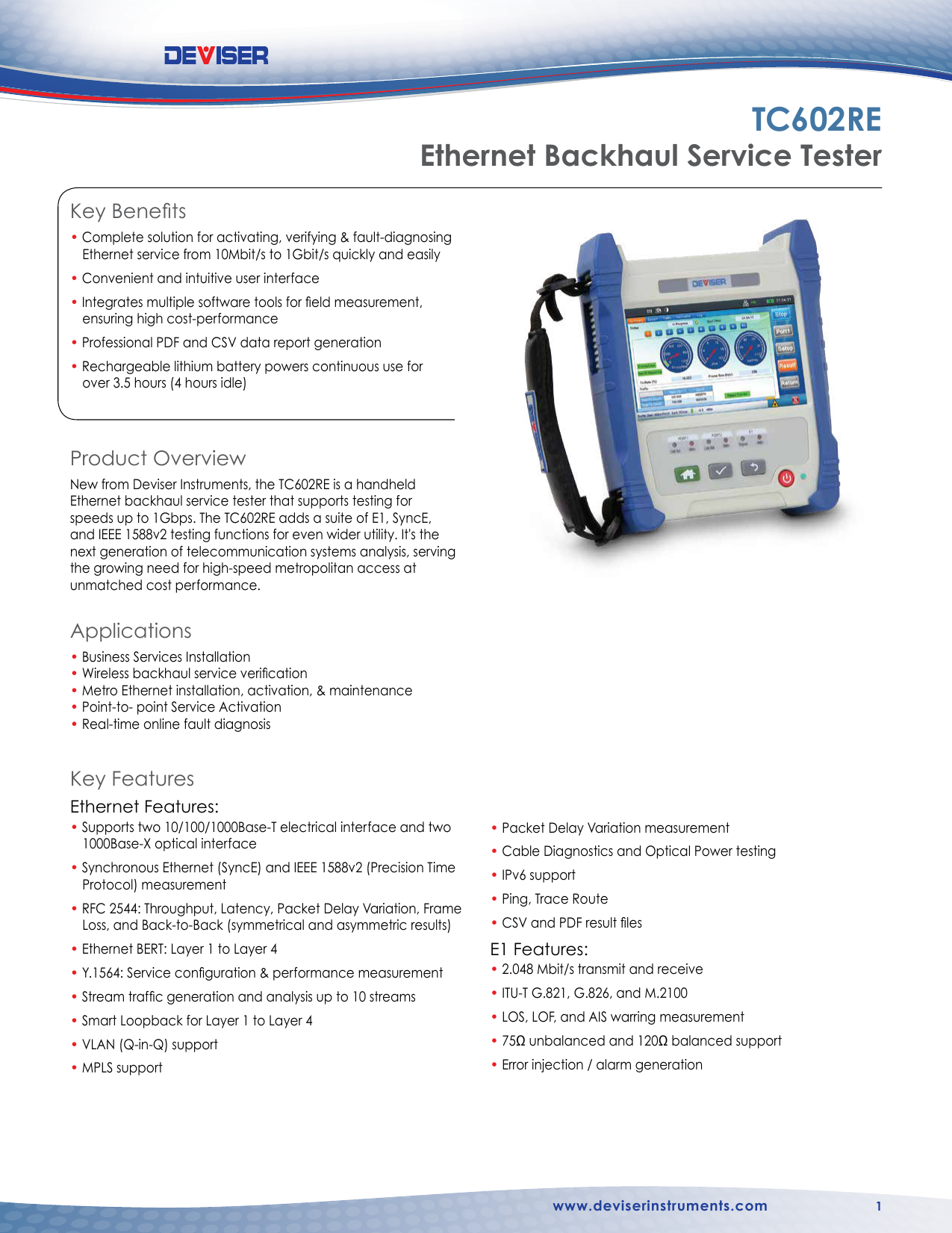 New from Deviser Instruments, the TC602RE is a handheld Ethernet backhaul service tester that supports testing for speeds up to 1Gbps. The TC602RE adds a suite of E1,SyncE, and IEEE 1588v2 testing functions for even wider utility. It's the next generation of telecommunication systems analysis, serving the growing need for high-speed metropolitan access at unmatched cost performance.
• 5 inch TFT LCD touch screen(800×480)
• Complete solution for activating, verifying & fault-diagnosing Ethernet service from 10Mbit/s to 1Gbit/s quickly and easily
• Integrates multiple software tools for field measurement,ensuring high cost-performance
• 75Ω unbalanced BNC×2, 120Ω balanced RJ48×1
• LOS, LOF, and AIS warring measurement
• 2.048 Mbit/s transmit and receive
Applications:
The TC602RE Ethernet Backhaul and E1 Tester excels at all Ethernet measurement applications, including performance evaluation; metro Ethernet installation, activation, & maintenance; point-to- point Ethernet joining-up service planning; real-time online fault diagnosis;wireless backhaul service verification and more.
Ethernet Features:
• Supports two 10/100/1000Base-T electrical interface and two 1000Base-X optical interface
• Synchronous Ethernet (SyncE) and IEEE 1588v2 (Precision Time Protocol) measurement
• RFC 2544: Throughput, Latency, Packet Delay Variation, Frame Loss, and Back-to-Back (symmetrical and asymmetric results)
• Ethernet BERT: Layer 1 to Layer 4
• Y.1564: Service configuration & performance measurement
• Stream traffic generation and analysis up to 10 streams
• Smart Loopback for Layer 1 to Layer 4
• VLAN (Q-in-Q) support
• MPLS support
• Packet Delay Variation measurement
• Cable Diagnostics and Optical Power testing
• IPv6 support
• Ping, Trace Route
• CSV and PDF result files
• E1 Features:
• 2.048 Mbit/s transmit and receive
• ITU-T G.821, G.826, and M.2100
• LOS, LOF, and AIS warring measurement
• 75Ω unbalanced and 120Ω balanced support
• Error injection / alarm generation