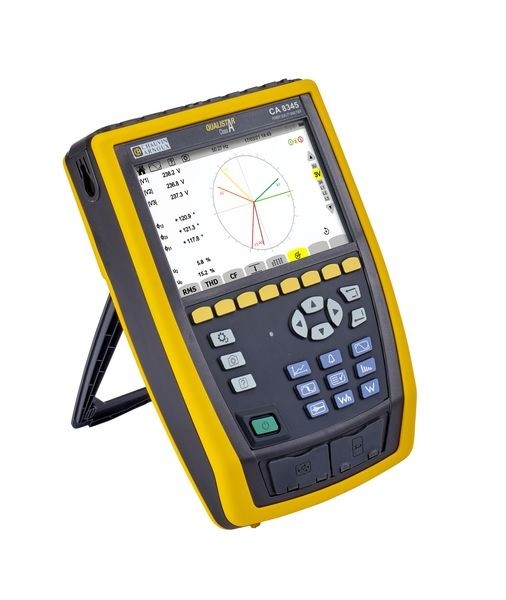 The CA 8345 is a Class A Qualistar power and energy quality analyser.
Like the Qualistar+ models, it is equipped with an intuitive HMI and remains simple to use. Multilingual online help can be displayed at any time on the large colour LCD touch screen.
Easy to handle, it is intended for inspection and maintenance teams working on industrial or tertiary installations. It can be used to obtain a snapshot of the electrical network's main quality features. The Qualistar model scan be used on all types of installations.
For greater safety, the CA 8345 automatically recognizes the type of current sensor connected.
The CA 8345 ensures high measurement accuracy. It provides a large number of calculated values and several processing functions. It offers users all the measurements needed to successfully handle energy efficiency projects and monitor the electrical distribution network. By calculating the cost of the electricity, you can immediately determine the value of the electricity consumed.
It can display the harmonics and interharmonics as stipulated by IEC 61000-4-7.
At the same time, it detects the carrier currents flowing on the installation.
The CA 8345 monitors all the events on the network:
Trend diagram, variations of the signal parameters
Parameterizable alarms, with the possibility of sending an email alert to the user
2.5 µs transients
12 kV shockwaves lasting 500 ns
TrueInrush to capture all the load start-ups….
A Monitoring mode can be used to record the measurement campaigns required for analysis as per EN50160.
Communication
In addition to the SD and USB drive, it is also possible to recover the measurements and communicate with the CA 8345 remotely. USB, remote links, Wifi (direct or via server) or via RJ45. An IRD Server mode allows extraction of the data from anywhere in the world without endangering internet security.
The Power Analyzer Transfer software can be used to process the measurements made with the Qualistar Class A.
The PAT3 software can be downloaded from our Support website.