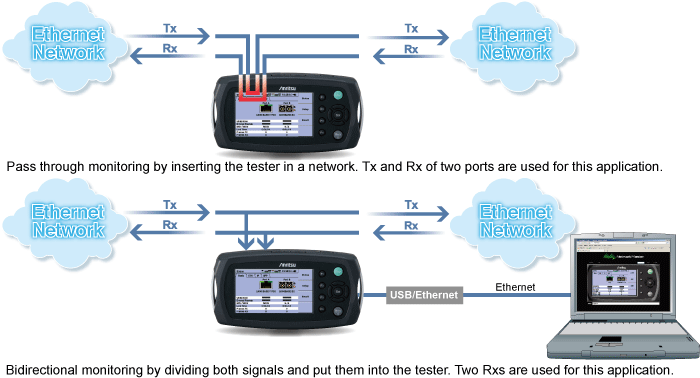 When outfitted with the Gigabit Ethernet module, the very compact battery-powered, easy-to-use Anritsu Network Master is a comprehensive solution for Gigabit Ethernet testing and for installation and troubleshooting Ethernet communication lines.
The instrument gives the user facilities for easy bandwidth verification, connectivity testing and service availability verification. The compact size and light weight of the instrument makes it very easy to carry around for field technicians working with the Ethernet lines. Despite the small size, the instrument is equipped with a large display so the user can easily read and interpret information from the tested lines off the large color display with easy-to-understand colors and graphical symbols. The graphical user interface also makes it a simple task to configure and operate the instrument.
The Network Master Gigabit Ethernet tester is purpose built for testing Ethernet links in the field. Its hardware and user interface are optimized for simplicity, making it easy to use for any skill level, and it is rugged enough to function in harsh environments.
Quick Startup
The Network Master Gigabit Ethernet tester is ready for measurement in about 15 seconds so productive work can start immediately.
Long Battery Life
Since AC power is not always available where you need it, the Network Master Gigabit Ethernet tester provides up to 3 hours of testing on a single charge, depending on configuration and setup. This coupled with an optional car cigarette lighter cord guarantees the instrument is ready when you are.
Portable
With its lightweight design and user friendly dimensions, the Network Master Gigabit Ethernet tester is perfect for the outside plant environment and can easily be managed with one hand. The standard softcase with shoulder strap further increases portability when traveling from the truck to the testing site.
Rugged
With no fans or vents to allow dust and moisture to enter the unit, the Network Master Gigabit Ethernet tester was designed for the challenging outside plant environment.
4.3-inch Wide Screen Display for Easy Viewing
The high resolution, full color, 4.3-inch wide screen display is the perfect format for viewing Ethernet measurement results. It also provides excellent readability both indoors and outdoors.