Training
Our training division has specialist trainers and courses focused on the Telecommunication Industry and the associated test equipment supplied by Coral-I Solutions. Our growing customer base includes the Telecommunication Corporate Companies locally and internationally such as MTN, Vodacom, Telkom, BTS, Econet, SchlemburgerSema and AT&T.
Our trainers travel to the customer no matter where in the world in order save the customer travel costs. We have provided training throughout South Africa and also throughout Africa. Some of the countries where Coral-I has presented training are Botswana, DRC, Lesotho, Kenya, Malawi, Mozambique, Namibia, Nigeria, Sierra Leone, Swaziland, Tanzania and Zambia.
The content and duration of courses may be changed to suite the requirements of the client whilst training is charged on per/candidate basis or per day depending on the class size.
In addition, the course contents could be a combination of the modules, set up in conjunction with the Client.
| | | | |
| --- | --- | --- | --- |
| Course | Duration | Code | |
| Digital Cellular Network Overview (non-technical) | 1 Day | DCN-B | |
| Introduction to Digital Cellular (technical) | 2 Days | DCN-A | |
| Transmission Principles Intermediate (PCM) | 3 Days | PCM-I | |
| Transmission Principles Advanced (PCM, PDH, SDH, ATM) | 5 Days | PCM-A | |
| Digital Core Network Switching Principles (CCS7) | 4 Days | DCNS | |
| Digital Access Protocols (ISDN,V52) | 4 Days | DAP | |
| Radio Access Protocols (A interface/ Abis, Mobis) | 3 Days | RAP | |
| TCP/IP | 2 Days | TCP | |
| Voice over IP | 2 Days | VIP | |
| Overview of GPRS | 1 Day | GPRS-B | |
| GPRS Advanced (including Edge) | 3 Days | GPRS-A | |
| UMTS Overview | 3 Days | UMTS-B | |
| Intelligent Networks | 3 Days | IN-A | |
| Tektronix K1205/K1297 Protocol Analyser | 2 Days | K12XX | |
| NetTest LITE 3000 Protocol Analyser | 2 Days | L3000 | |
| Compass Radio Optimisation Tool | 3 Days | CROT | |
| Multi-channel Protocol Analyser | 3 Days | MPA | |
| Spectrum Analyzers | 1 Day | SPAN | |
| Signal Generators | 1 Day | SIGE | |
| Analogue and Digital Oscilloscopes | 1 Day | ADOS | |
| RF measuring devices | 2 Days | RFMD | |
| Communications Monitors | 1 Day | COMO | |
Site Master Training: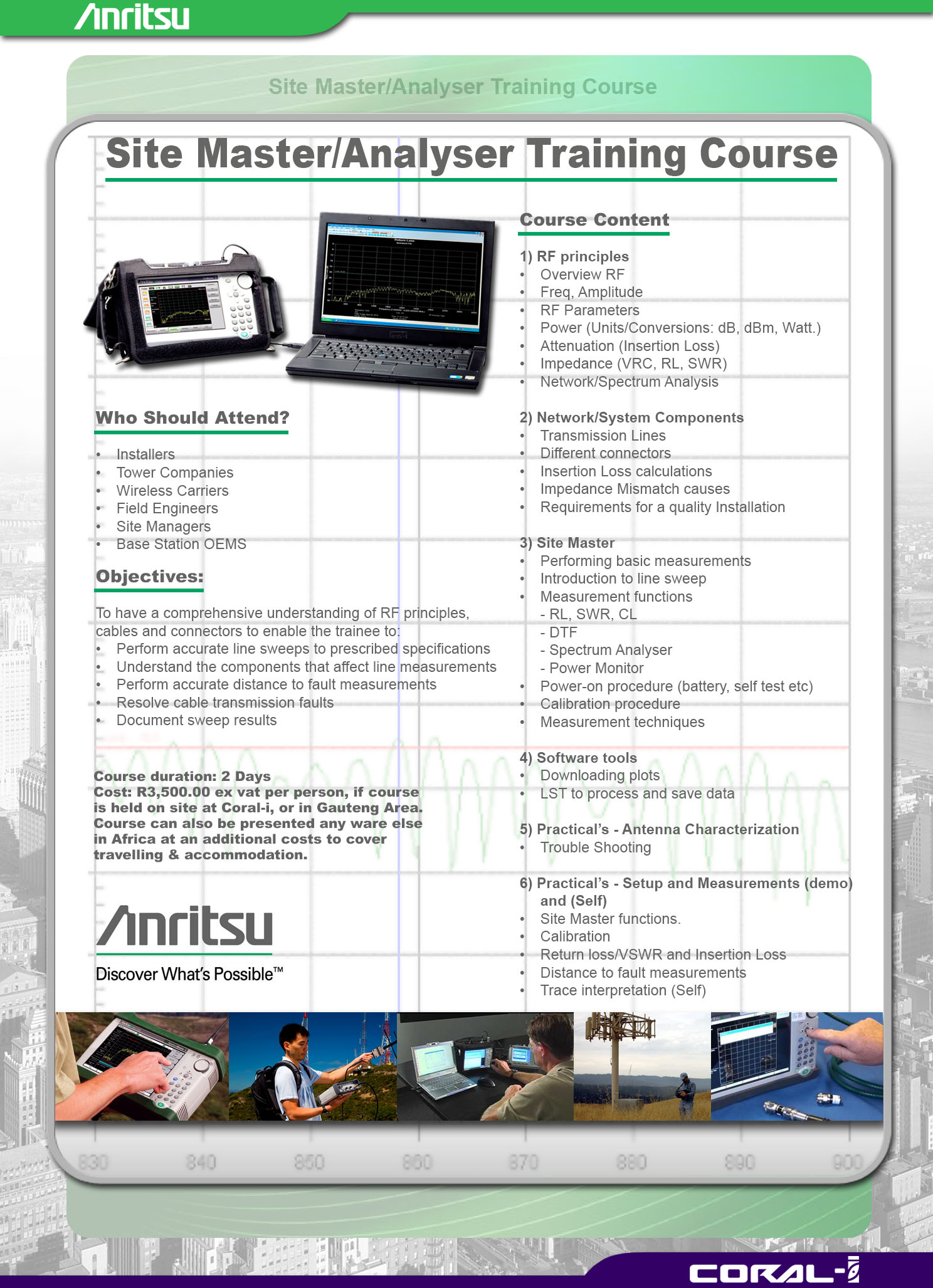 PIM Training:
Fiber Optics Training Training